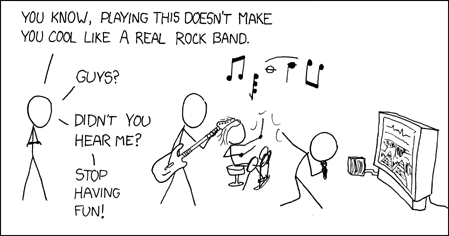 Last night, Ryan and I played Rock Band for a couple of hours, taking turns playing guitar and drums. We're both sore today, and it was entirely worth it.
The point isn't to play real instruments. The point is to pretend that you're in a rock band, and have fun while you do it.
Our final set list was:
All I Want is to be Next to You
Reptilia
. . . And Justice for All
Foreplay/Longtime
Won't Get Fooled Again
At the end, I threw my drumsticks down on the living room floor, and threw both my arms into the air, throwing double goats. Ryan spun his guitar controller around his neck, threw his arms up into the air, and we shared a spontaneous double high five.
I don't care about playing real instruments. I just want to have fun with my friends (or, in this case, my son.) I've played real guitar and real bass, and though it was always satisfying to play songs well, it was never as fun as it was playing in Zombitis* last night. Rock Band haters (who have to try real hard to impress everyone with how cynical they are) completely miss this fundamental point, which is sad. Maybe if they were having fun like this, they wouldn't be such dicks.
*2/3 of Zombitis, anyway. We couldn't convince Nolan to stop playing Warcraft long enough to rock out with us.