Last week, I finished recording the audio version of The Happiest Days of Our Lives. I'm not sure what our release date is, but it's in the near future. Like the audio version of Just A Geek, it's a superannuated super-annotated version, with lots of asides and commentary. I think you're going to like it.
It was a lot of work to do both of my audiobooks, but I think I've been able to create two experiences that are unique and special. They're vastly different from just listening to me read the text; David Lawrence (my friend and producer) and I ended up having extended discussions during the recording of both books, and I broke away from the text frequently to add what we called "audio footnotes" to the experience.
This is a very time-consuming process - recording Just A Geek took seven weeks, for example - but I think it's worth the effort. If I've done it right, the listener should end up feeling like we're sitting in a room together, where I'm reading the book, and occasionally putting it down to relate some story or tangent that isn't in the text. Also, I'm smoking a pipe, wearing an ascot, and petting a cat.

People frequently ask me if I'll put my audiobooks on Audible, or sell them through the iTunes Music Store (I think that's the same thing, but these are the questions I get. Don't shoot the messenger!) I haven't made them available there partially because Audible wants to take an enormous cut of the sales price, but mostly because Audible infects and cripples all of their files with DRM, even if the publisher and rights holder doesn't want them to.

Let's talk about DRM for a moment. It's no secret that I hate it, and I believe that treating your customers like they're thieves is no way to run a business. "But what about piracy?" You ask, "and where can I get a stylish ascot like yours?"
I'm not that worried about piracy, to be completely honest with you. I agree with Cory Doctorow that obscurity is a greater threat to an artist than piracy, but I also trust my customers more than the average publisher, because I believe I have a different relationship with them (you) than the average publisher has with, say, me. Maybe this is a little naive, but hear me out.
I'm in a unique position among creators. I feel like we (meaning me and you who are reading this) share a relationship that most creators don't get to share with their audience. I mean, I can read a Stephen King book and enjoy it, but I have no real expectation (reasonable, anyway) of ever meeting him or exchanging ideas with him. I can watch How I Met Your Mother every week, but it's incredibly unlikely I'll ever get to talk with Neil Patrick Harris about how awesome Barney is. Because I feel a more personal relationship with all of you who've supported me by buying my books and watching my work on television, I don't worry that much about piracy. I don't believe that anyone who reads my blog and is interested in hearing me perform my work would deliberately steal from me any more than they'd walk into a friend's house and take money out of their wallet. (Awkward note: this doesn't mean we're friends, but you get that, right?)

David and I check the usual places from time to time, and we're willing to aggressively have stuff taken down if we need to, but here's the remarkable thing: we've never found anything. That means that we're very bad detectives, it's just not worth pirating, or the people who have bought my audiobooks have honored my request to share them with friends, but don't share them with the whole Internet.
Anyway, this is on my mind today because of today's xkcd: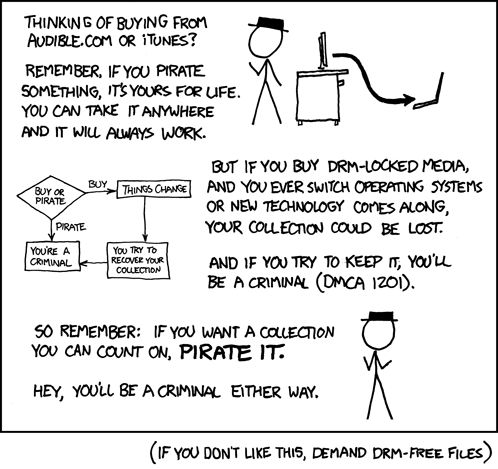 I'm not getting rich off of my books and my audiobooks, but it's a very big and significant part of how I support my family. I'm incredibly lucky to make a living being an artist and a creator, and I couldn't do it if you all chose to steal my stuff instead of buying it. It's getting harder and harder to make a living these days, and I know that money is tight for everyone, so thank you for not being dicks.
If I have anything to say about it, you'll never have to pirate from me to have a collection of my work that you can count on. I'm never going to infect anything I create and publish myself with DRM. I don't believe in it, I hate it as a consumer, and so far, my fundamental belief in the goodness and honesty of people has been affirmed (cue someone finding it all over some tracker in 3 . . . 2 . . .)
Oh, and my stylish ascot? It doesn't really exist. It's a glamour. Don't tell anyone, though, okay?